Activities, Organizational and Digital Outcomes
We'd like to invite you to dive into the activities of our group. and some of their organizational and digital outcomes Of course our publications are the most interesting results (and thus presented separately). The links collected below present interesting and helpful information. Occasionally news are published via Twitter and Facebook.
Some Open Source Software
Starting in 2004, the language workbench MontiCore has been developed by the SE Group. Throughout the development process, the results of the latest research have been incorporated into the project. Of course, the newest insights are continuously integrated.
Latest Books
(see also Books of RWTH Software Engineering Group)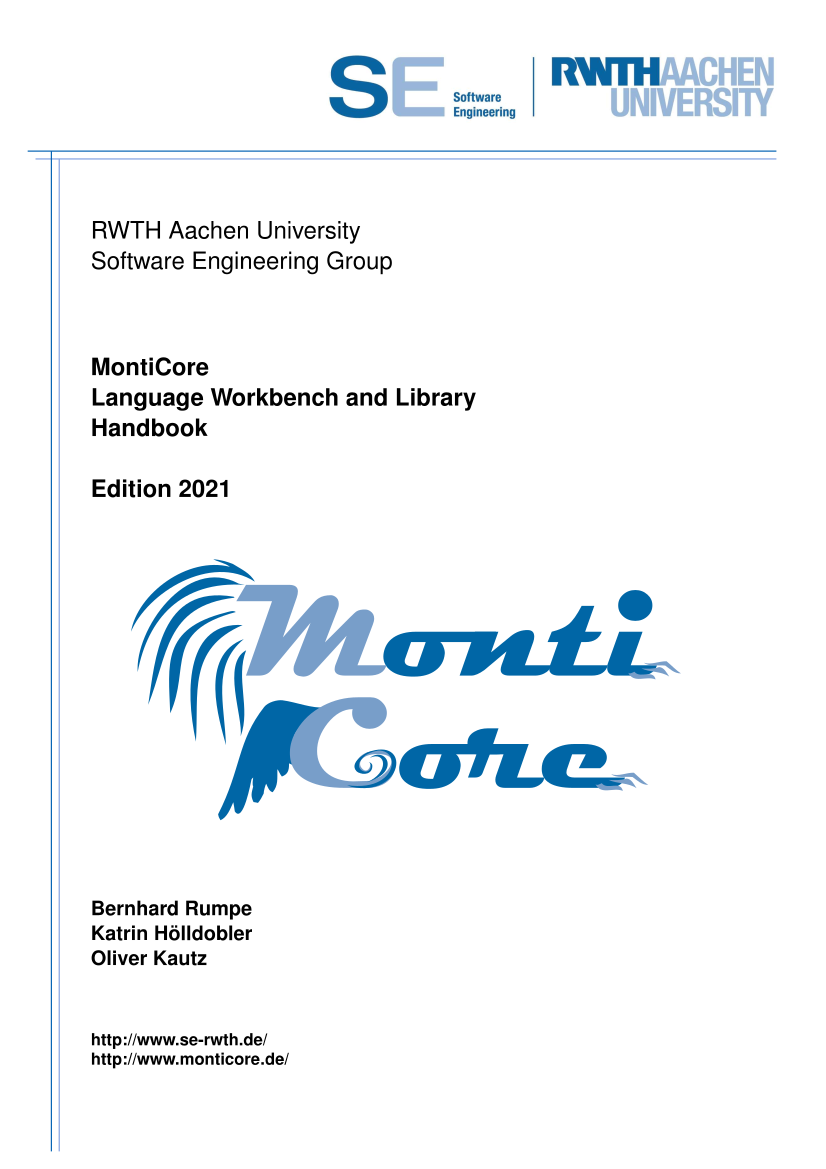 This book describes the MontiCore workbench developed since 2004. It contains conceptual insights into language composition, refinement, extension and potential techniques to preserve language properties conservatively, but also concentrates on the technical realisation and use of the MontiCore workbench.

In 2001, Robert France and Prof. Rumpe founded the SoSym-Journal. Nowadays, it is the primary venue for articles about modelling, modelling languages and related issues in software and systems development.
The book contains our view on how to design software languages consolidating our longtime experience gained through longtime research and within many industry projects. Technological progress requires languages that allow to build models for inter-human communication as well as human-computer-interaction. The companion website provides the complete sources of various examples of the book, and solutions to the exercises as well as other additional material.
The two books describe our interpretation on how to use the UML and what concepts should be enhanced. Both are available in English or German and provide lots of supplemental material.
Videos / Channels
Related Organisations
Further Activities, Outcomes and Digital Representations in the Web
Further links: